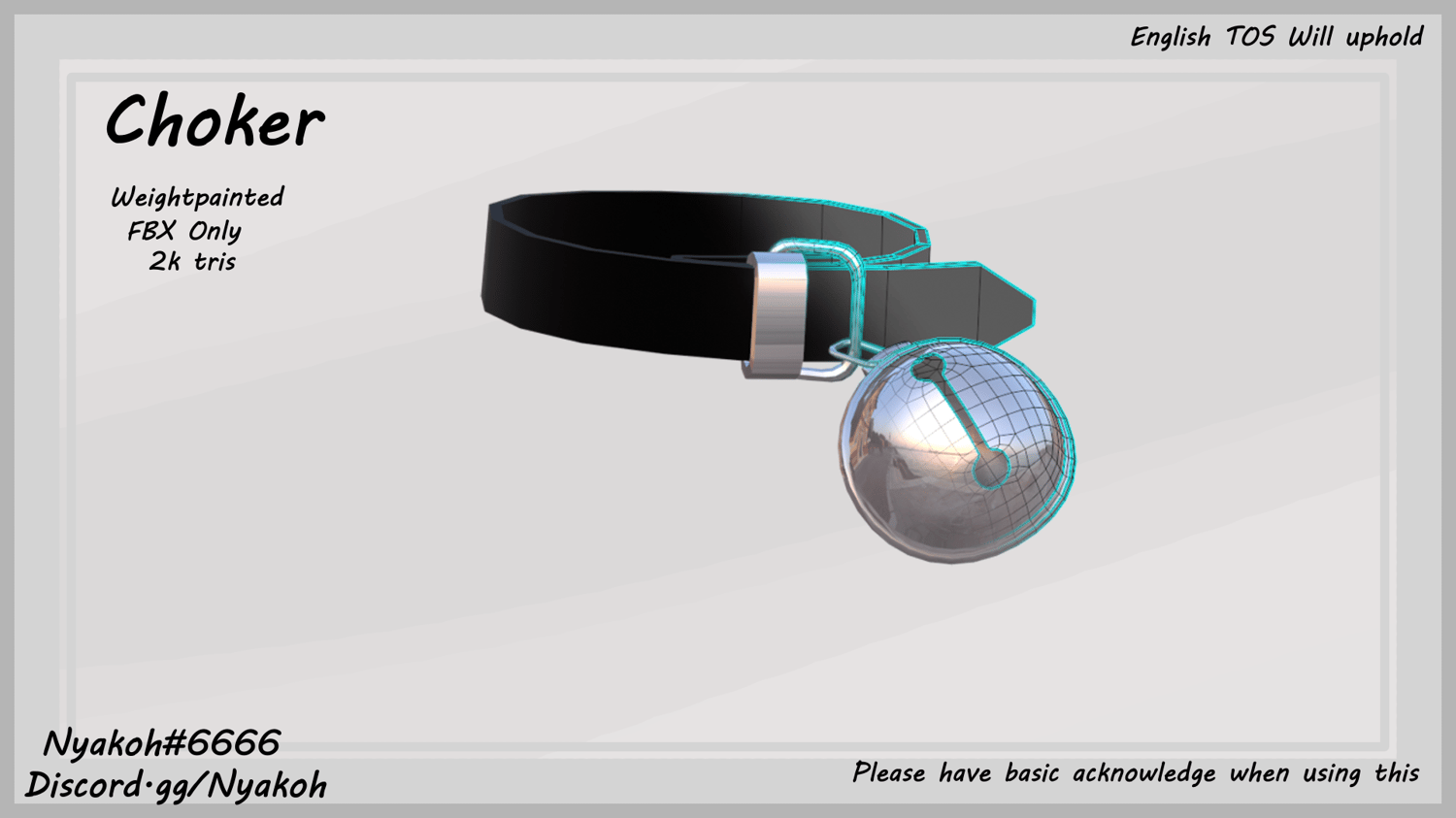 Choker
On Sale
⸝⸝ Join The Server For Updates, Server Only Assets, And To Make Suggestions for Future Content 
✿ • Nyakoh's Playground
Leave a review if you like my creations! ⸝⸝
・──・─・✿・ ─・──・
꒰ ✎ Product Content
・FBX Only・2k Tris・Rigged & Weightpainted・No Textures・Fully From scratch by me in blender (Nyakoh)
・──・─・✿・ ─・──・
꒰ ✎ TERMS OF SERVICE
・Redistributing or reselling my assets is not allowed
・my assets you purchase from my shop are not refundable.
・Credit me if you're going to use my asset on a finished model - Nyakoh#6666 (Shop Link)
・do not claim as your own.
・You must inform your customers that my assets cannot be resold/reused unless they bought the asset  from me.
I am not responsible if you break anything while importing, uploading or editing.
──・─・✿・ ─・──・
꒰ ✎ PROHIBITIONS: (CANNOT DO)
・Distribution and sale of the mesh on its own or edited - NO
・Claiming the mesh or any files included as your own - NO
・ Sharing to Non-Purchases - NO
・Free models with my asset - NO
・Nitro models with my asset - NO ( unless if i have given you permission to do otherwise)
꒰ ✎ ALLOWED:
・You are allowed to use my assets for public models on pedestals
・Allowed on a finished model/product 
꒰ ✎ Commerical information:
・Commercial use/selling with the mesh on a finished model: ALLOWED WITH PROPER CREDIT

・Commercial use can only be resold if featured on a completed character with credit to the store you purchased it from. Item can not be sold on their own even if edited.
・Your license is only valid if you provide the approprate information asked at check out (Full Discord Tag + VRC name) if that isnt provided your purchase cannot be linked to you and will not be valid
꒰ ✎ File modification

・You are free to modify this asset but edited still belongs to me (Nyakoh)
──・─・✿・ ─・──・
꒰ ✎ Disclaimer
I am not responsible for any financial or mechanical problems caused by the use of this 3D Model ''Choker'' So use at your own risk.

The copyright of Choker asset (hereinafter referred to as this 3Dmodel) is held by the creator Nyakoh#6666, and the modified data belongs to the creator ( Nyakoh#6666 )
Terms of Service are legally binding, and if these terms are violated, legal repercussions will ensue.
By purchasing this, you acknowledge that you have basic Unity and Blender knowledge for editing and uploading.
Join my server if you have any inquiries or questions and go to the help channel
Failure to follow these terms allows me to take legal actions against you