* . °•★|•°∵Spike Hair∵°•|☆•° . *
On Sale
(。・ω・。) / !! everything else isn't included only the hair !!
((SUPPORTED MODELS ATM))
【萌(Moe)専用】
꒰ ✎ ''Spike hair'' Infomation & Content
INCLUDED::
FBX
Textures
Unitypackage
・ポリゴン数 :: 15,1763
----------------------------------------------------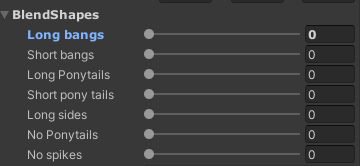 ----------------------------------------------------
Nyakoh is not responsible for any issues that arise from user modifications or lack of knowledge in using the product.
It is recommended that the buyer have some basic knowledge of Blender or Unity before purchasing the product, as Nyakoh will not be able to provide assistance or teach the buyer how to use it.
----------------------------------------------------
Nyakoh は、ユーザーの改造または製品の使用に関する知識の不足によって発生した問題について責任を負いません。
にゃこでは使い方のサポートや指導はできませんので、BlenderやUnityの基礎知識をお持ちの方のご購入をおすすめします。
翻訳の都合上、英語版と日本語版に相違がある場合は、英語版が優先されます。本利用規約は、変更または修正される場合があります。変更後も継続してご利用いただく場合は、変更・改訂された利用規約に同意したものとみなします
----------------------------------------------------
If there is a discrepancy between the English version and the Japanese version due to translation reasons, the English version shall prevail. These Terms of Use may be changed or amended. If you continue to use the site after the change, we will assume that you have agreed to the changed or revised terms of use.
---
꒰ ✎ TERMS OF SERVICE
the Terms of Use are subject to change, which means that the seller may update the terms at any time to reflect new conditions or circumstances.
・It is prohibited to redistribute or sell any data of my base and what else is included in the package
       - Includes Mesh, Bones, Weights
DO NOT purchase this if you have no unity & blender knowledge.
 - As Nyakoh won't be able to guide you. 
No Refunds all sales are final
do NOT share my products anywhere, nor give out to anyone under any circumstances
Redistributing or reselling my assets is not allowed
My assets you purchase from my shop are not refundable.
---
꒰ ✎COMMERCIAL INFO
The commercial license allows you to sell or distribute products created using the body base.
To use the body base for any commercial purposes, you must purchase a commercial license.
The commercial license grants you the right to use the body base to create custom avatars for commercial use in VRChat.
You may not modify or alter the asset and distribute or share the modified version with others, whether for free or for a fee (ON ITS OWN)
---
You MUST list each and every asset you have used by me, you must use my full discord tag (Nyakoh#6666) aswell as MUST link it to my shop or if it is from nitro section you MUST link my
it's important when you use my asset or just any of my assets for commercial that you have it linked back to the original source, and that users are not using my assets without permission or proper attribution. 
MY ASSETS may NOT be resold, sublicensed, or transferred to any third party without prior written permission from the original creator. which is Nyakoh.
 Any unauthorized use or distribution of the asset may result in legal action.
By purchasing the asset. you agree to the terms and conditions outlined above. The creator reserves the right to modify or update these terms at any time without prior notice.
Nyakoh reserves the right to revoke commercial license at any time if terms of service are violated.
Nyakoh is not liable for any damages or losses incurred through the use of digital goods, including but not limited to direct, indirect, or consequential damages. By purchasing a digital good, the purchaser assumes all risks and liabilities associated with the use of the digital good.
If you have any questions or concerns about these terms, please contact me through my discord server or twitter. but make sure to open a ticket which will be in #Desk after you verify yourself in the server.
 - i wont respond to dms so open an ticket if you want to get contact with me
Discord server Here - i wont respond to dms on discord so open an ticket in my server.
Mail: Nyakoh.official@gmail.com
Twitter Here - you can also message me on twitter.